Shark tank India has given opportunities to many start-ups to pitch their business ideas in front of sharks and made a deal. But among all there are few pitches that have got a fantastic deal or there are few that could not get a deal but wins the audience's heart with their amazing pitch and ideas. So, here are the top 10 shark tank india pitches with  their deals in brief.
1. Revamp Moto
The founders Jayesh, Pushkaraj and Pritesh presented this pitch. They presented India's first modular utility vehicle, Revamp Moto. They developed highly reliable, modular and connected electric vehicles based on utility platforms. Their mission is to empower India's hustlers while accelerating the transition to a zero-emission society and saving environment. Revamp Moto has introduced a new and different part in the Indian electric two-wheeler transportations called SVA.
The company has launched two interesting products. One product is Revamp Mitra and RM25. This is a smart vehicle with Bluetooth enabled features and one can track every activity on the app. Their first model comes with areas of many attachments. It can have a table that can be opened and folded on the back for selling products used by small vendors. It can have a delivery basket that reduces the workload of any eCommerce delivery staff. And the most important thing is that it also comes up with a fridge which the company termed as cool keep. Revamp Mitra is made in a way that it can aid vegetable sellers, tea vendors and other such small vendors and other businesses to carry their business on their two wheelers .
Revamp Mitra and Revamp 25 are the two models providing a solution for B2C and B2B customers in the India. This was an interesting deal that brought a tussle between the sharks. They asked for 1 crore rupees at 1% equity and after much negotiation they closed the deal with 1 crore rupees for 1.5% equity with two sharks – Aman Gupta and Anupam Mittal.
2. WeStock
This is an agritech based startup, presented by founders Romeo and Shreeshankar. They are both electrical engineers. This is a product developed by Brainwired which keeps a check on the health and reproductive cycle of cows. All the required data and other feedback received on the phone. WeStock had a meaningful problem solving product and mainly wanted to target the farmers of the country.
The product package comes with three items including ear tag, applicator and reader. They have also done a few projects for the government. This product is a very useful tool for the farmers in India. Their aim is to reach every farmer in India. The pitchers answered all the questions of the sharks and impressed them. The co-founders asked for 50 lakhs for 5% of the company but lastly accepted the counter offer of three sharks- Namita Thapar, Peyush Bansal, and Ashneer Grover and closed the deal for 60 lakhs at 10% equity.
3. Jugaddu Kamlesh
Jugadu Kamlesh presented his pitch in a very unique and filmy style. His goal was sorted and simple. He wants to solve the problems of many farmers. A farmer who carries a heavy pesticide spray can cause damage to the body and also the pesticide going in the nose and mouth can lead to various diseases. He designed and made a trolley used for carrying pesticide spray instead of carrying those heavy sprayers at their shoulders and can be used by farmers.
Being a village boy with a mission to solve, showed that an entrepreneur comes not only from big institutes but also from small villages. Only Peyush invested in his product as he found the business meaningful and purpose driven. Kamlesh got 10 lakhs for 40% equity and a loan of 20 lakhs at no interest which he can give back in small amounts based on his profit from each product.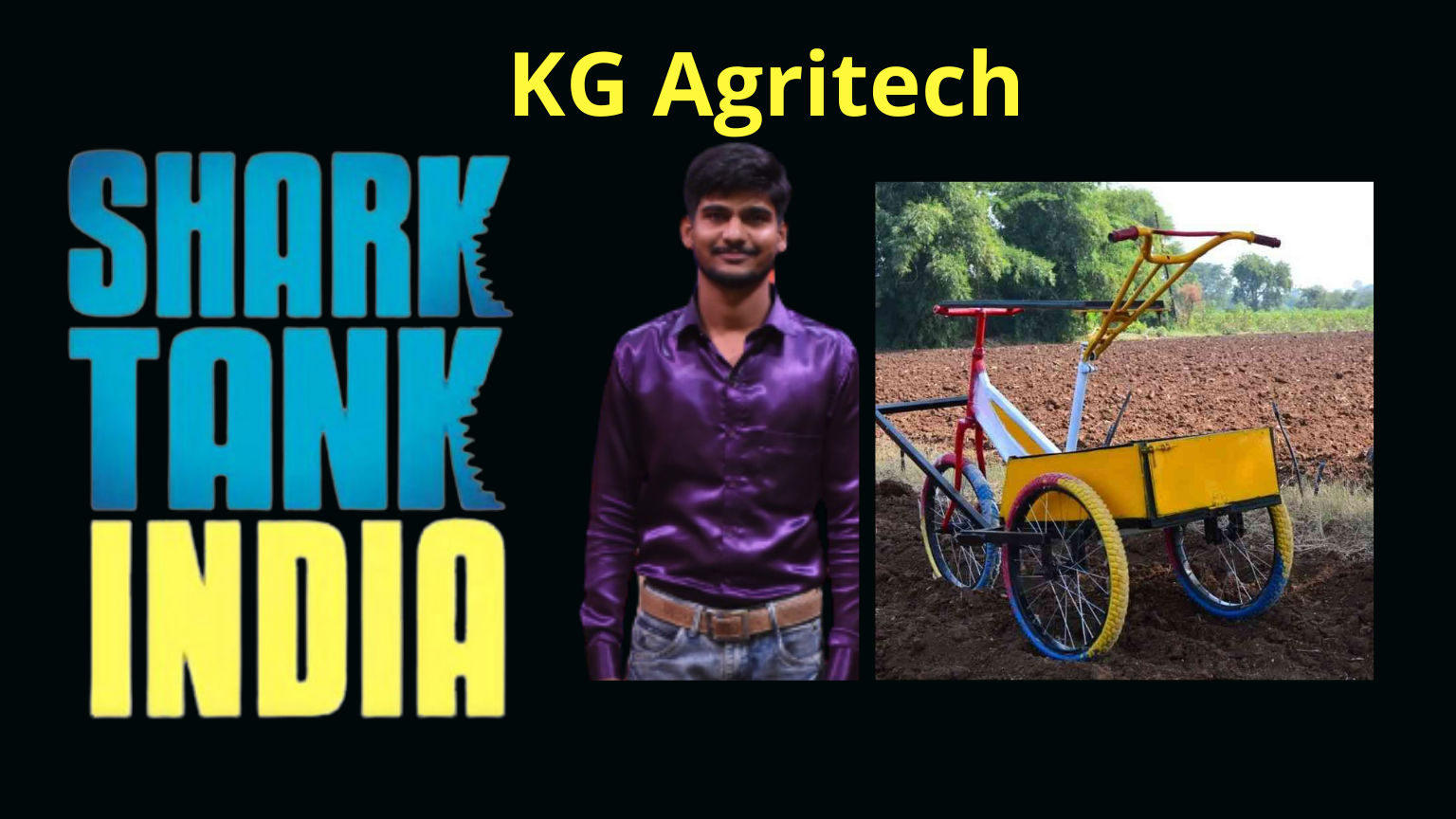 4. Annie
It is a device made by the team of  Thinkerbell Labs for specially-abled children. It helps the children in reading, typing and learning without any professional teacher. This device can produce the sound in a friendly manner and teaches braille in the mother tongue of different regions.Annie has an entire ecosystem called Helios by which one can keep a track of a child's improvement and how they are developing. The device can be used by children of age years of 4 to 15. This device helps in cognitive development.
The most heart touching part of this pitch was the 10 year old little kid Prathamesh Sinha. Prathamesh showed the demonstration of Annie in a brilliant way. He won the hearts of all the sharks. They managed to bag the deal of 1.05 crores for 3% equity from three sharks – Peyush Bansal, Namita Thapar, and Anupam Mittal.
5. Wakao Foods
It is a jackfruit based food startup on shark tank India. Nowadays many people are converting their food preferences to vegan and vegetarian but there are very limited recipes for such people to eat. The pitcher brought out the 100% natural mock-meat with no preservatives. The shelf life of the products is 12 months without any storage and refrigeration.
The pitcher presented his pitch with full energy and was quite entertaining. It is the first startup in shark tank India where all the three female investors invested. The Wakao food provides the alternative dishes to meat. He made the final deal with Ghazal Alagh, Vineeta Singh, and Namita Thapar and got 75 lakhs at 21% equity of the company.
6. Moonshine
It is India's first mead beverage. Mead is a type of beverage and the oldest alcoholic beverage made mainly from honey. Their Meads are mainly contemporary meads, some are carbonated meads, little sweet and artificial flavors are not added. Their products are made from natural sources and are Made In India. They started their company in 2016 .
The startup mainly aims to bring the oldest beverage back in our culture. The pitch presented by the founder was good but all the sharks stepped out from the deal as the both the pitchers and sharks could not agree on a mutual deal.
7. Elcare
There are around 20 crore people of age above 50 years old and they need aid for their living day to day life. So to erase this problem they have started their company Elcare; carenting for elders. The company has delivered their service to more than 226 families in 11 cities around. Their aim is to take the company to various other countries. The company Elcare provides Carenting for Elders. They provide services starting from Health and medical Services, Convenience Services, Safety, Security and Emergency Services, Community Engagement, travelling needs and more. They provide all care and parenting services to senior citizens.
The service will be given by ex- ex-serviceman. The founders Pankaj, Aashna, Suresh asked for 1cr at 2.5% equity of the company. But as both the sharks and pitchers could not agree on a mutual deal. So no final deal was done.
Read Here: All About Seven Shark Tank India Judges | Net Worth,Investments
8. Smart Helmets by Altor
Altor presented one of the best business ideas on the show. They featured the idea of smart helmets which is quite appreciated by the sharks. The founders team consists of college graduates. Their smart helmets have a wide range of useful features. The Smart helmet has GPS with Google maps. Their friend lost his life in an accident which led the team to work on the development of smart helmets.
The helmets can be connected to a phone via bluetooth and will send notification to the family members of a person who met with an accident. The helmet possessed many such features which impressed the sharks. The team closed the final deal with Namita Thapar and Aman Gupta for 50 lakhs at7% equity of the company.
9. Ice Popsicles by Skippi Icepops
It is a Hyderabad based startup. It is an ice popsicle brand and the first deal where all the sharks were included. The pitch was presented by the husband and wife duo. The brand is runned by Kabra Global Products Pvt. Ltd. Ravi Kabra and Anuja Kabra were living in Australia and later moved to India post Ravi's father's demise.
They bought a product to which Indians can relate and recall their children's memories. All the sharks were very impressed with the taste and packaging of ice popsicles. Also their products are made from natural fruit flavours. The duo got all the Sharks in the deal for 1crore at 15% equity of the company.
10. The Yarn Bazaar
The Yarn Bazaar is a Mumbai based startup that aims to change the unorganised textile industry sector into an organised sector through their business. The founder and CEO of the company Pratik Gadia started this business back in 2019 and since then they managed to do a business of whooping 230 crores.
They mainly sell and buy the yarn and apart from this they do podcasts and interviews with the experts of the industry. They want to grow the textile sector in India. They impressed the sharks and raised a Rs 1 Cr investment deal from Peyush Bansal, Ashneer Grover, Anupam Mittal, and Aman Gupta.
Let us know which are your favorite Shark Tank India Pitch in the comment section.
---