As many good sharp-minded and entrepreneurial-minded people are completing their Shark Tank India registration, Many people are gossiping about who will be the Shark Tank India judges. So here we are with our prediction for the show judges. We have listed down the people by looking at their business history, their way of looking at the business.

A piece of welcoming news to all the brilliant and strong-minded entrepreneurs in India on the launch of the American reality series SHARK TANK in India. A show that would open up the way for their ideas to be put into reality, where the entrepreneurs would be allowed to express their business ideas to 'the sharks'.
The Sharks are the investors who would then decide on which ideas to invest in. The rights of the Indian version of the show are acquired by Sony TV for its show streaming, Also you can watch all the episodes of Shark Tank India on SonyLiv Mobile App. In this blog, We will share the prediction of judges from Shark Tank India. A Shark Tank India Judges are actually are Shark Tank investors with whom the business entrepreneurs would share their idea.
1. Anupam Mittal
Anupam Mittal started his journey by founding today's one of the most innovative enterprises in the country, The People Group. He was voted as one of India's 50 Most Powerful People by Business Week.
He is also on the list of India's most active angel investors. This is the main reason why Anupam Mittal is on the number one list of predictions for Shark Tank India Judges.
Net Worth
$1.5 Million
Age
49 years
Current Company

Founder and CEO of Shaadi.com
People Group
Founder Mauj Mobile

Investment Details

He made a total of 47 personal investments.
He made a total of 47 personal investments.
The highest investment made was in BurnCal. He invested $330k.
Anupam Mittal's latest investment is Pre Seed Round in BurnCal, Series A- Yojak in Yojak, Seed Round in Bimaplan, Sees Round in Raise Financial Services, Seed Round in Express Stores, and Seed Round in Zingbus.
Connect With Him: LinkedIn
2. Rohan Oza
Rohan Oza has already been an investor on the American edition of Shark Tank. Apart from being the CMO of the Coca-Cola Company, he is also the founder of Idea Merchants Capital. One of his latest ventures includes Popchips and Vitacoco.
He was featured as one of the top 10 marketers in America by Brandweek in 2002. As Rohan Oza is an Indian name and he has experience in Shark Tank India he could be one of the judges in Shark Tank India.
Net Worth
$200 Million
Age
49 years
Current Company
Chief Marketing Officer of The Coca-Cola Company
Investment Details

He made a total of 9 personal investments.
The investments are Venture Round- Rocean, Series B-Cue, Series A-Gobble, Seed Round-Pledge, Series A-Soma, Seed Round-Soma, Seed Round- ShopTap Industries, Series A- ecomom, Angel Round- Kiip.
Rohan Oza's latest investment is $6 million in Venture Round of Rocean.
Connect With Him: LinkedIn
3. Kunal Shah
There is a possibility that Kunal Shah is going to attend the Shark Tank India reality show as one of the investors. Kunal Shah apart from Cred is the founder of FreeCharge as well. Based in Mumbai, he has a considerable interest in science and behavioral finance.
Kunal Shah is one of the big names in the Entrepreneur family from India. When Ranveer Allahvadiya interviewed Kunal Shah on his Channel BeerBiceps, Many Indian youths have become the fan of Kunal Shah. It would be great if Kunal Shah becomes the judge in the Shark Tank India TV show.
Net Worth
$806 Million
Age
37 years
Current Company
Investment Details

He made a total of 77 personal investments and 1 partner investment.
The latest personal investments are Seed Round- OneCode of $5million, and Seed Round-Pankhuri of Rs 238 million.
Kunal Shah's latest partner investment is $2 million in Seed Round-PagarBook.
Connect With Him: LinkedIn
4. Sachin Bansal
You guys may not be aware of the name Sachin Bansal but definitely, we know Flipkart. Flipkart Private Limited has earned a revenue of approximately 346 billion Indian rupees in the financial year 2020. This is an increase of 12% revenue as compared to 2019.
Sachin Bansal can hear the business ideas of the entrepreneurs in India's version of Shark Tank. Sachin Bansal started his business journey by working in Techspan and Amazon, and later on launching Flipkart with Binny Bansal.
Net Worth
$120 Crores
Age
39 years
Current Company

Chief Executive Officer of Chaitanya Rural Intermediation and Development Services.
Founder of Navi Technologies.

Investment Details

He made a total of 19 personal investments and 2 partner investments.
The investments Funding Round- Navi Technologies of Rs. 30.1 billion, Debt Financing-U Gro Capital, Debt Financing-Chaitanya, Poat IPO Debt- Piramal Enterprises are the latest.
Sachin Bansal's partner investments are Debt Financing-Kissht of Rs. 500 Million, And Debt Financing in boat.
5. Divya Gokulnath
As a teacher and an entrepreneur, she has received tremendous success in her endeavor. And as we know any teacher can be a good judge who can guide and teach his/her students.
Divya Gokulnath can definitely be a good Judge for Shark Tank India series and can give very good amount of value to the people who have completed the Shark Tank India registration.
Her achievements include:
In Forbes Asia's 25 Most Powerful Women List
LinkedIn Top Voices in Education, both in Global and Indian Context
Two-time Winner of Business Today's Most Powerful Women List
| | |
| --- | --- |
| Net Worth | $3.05 Billion |
| Age | 34 years |
| Current Company | Director and Co-founder of Byju's |
| Investment Details | N/A |
Connect With Her: LinkedIn


---
---
6. Bhavish Agarwal
Bhavish Agarwal who is the founder of India's most successful startup Ola can invest in the new entrepreneurial ideas brought up by the entrepreneurs in India.
He was ranked among the 100 most influential people of 2018 by Time Magazine and was also featured as Forbes India AND Hindustan Times' List 30 under 30 achievers.
Net Worth
$ 500 Million
Age
35 years
Current Company
Co-founder and CEO of Ola
Investment Details

He made a total of 9 personal investments.
The investments are Private Equity Round in Ola of $ 500M, Angel Round- Tork Motorcycles, Series A- Avail Finance, Angel Round-Avail Finance, Venture Round in MadRat Games, Venture Round- HashLearn, Series A-OfBusiness, and Series A-Chaayos 
Connect With Her: LinkedIn
7. Deepinder Goyal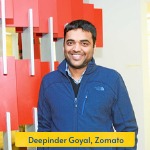 Deepinder Goyal can also be a part of India's first edition of Shark Tank as a shark investor. Starting as a management consultant in Bain and Company, New Delhi to Zomato here journey is a story of inspiration to all the entrepreneurs.
Net Worth
Rs 2,200 Cr
Age
38 years
Current Company
Founder and CEO of Zomato.
Investment Details

He made a total of 6 personal investments and 1 partner investment.
The investments are Series B-Animall of Rs. 1B, Series D-Shiprocket, Seed Round-Terra.do, Series B-Bira 91, Pre Seed Round- HyperTrack, Series A- Bira91, and Pre Seed Round- SquadStack.
Rohan Oza's partner investment is $169k in Seed Round of TinMen.
Connect With Her: LinkedIn
8. Ankita Vasishta
Ankita Vasistha can also hear the ideas of the young entrepreneurs in India and invest in them. Her fund that is Saha Fund, is India's first approved venture capital fund by Exchange Board of India.
It is focused on women entrepreneurs in senior management positions as well as founders.
Age
34 years
Current Company

Founder CEO and Managing Partner of Saha Fund
Partner at Tholons

Investment Details
9. Nitin Kamath
Nitin Kamath was ranked in the list of Forbes India 30 under 30, under the Financial Sector in 2016. His recent greatest achievement is Zerodha bagging the top list at IIFL Wealth Hurun India 40.
He was also listed under the Self Made Rich List 2020. Nitin Kamath is India's Most intelligent personality with a good amount of money in his pocket.


Net Worth
Rs 12000 Cr.
Age
41 years
Current Company

Zerodha
CEO of Rainmatter Technology

Investment Details

He made a total of 4 personal investments and 3 partner investments.
The investments are Series A in Agnikul, Seed Round- Kudos Finance and Investments, Series A-Cred, and Seed Round-Zenprivex.
Nitin Kamaath's personal investments are Seed Round- Rule Zero, Seed Round-Procol, and Seed Round-Streak
Connect With Her: LinkedIn
---
---
Final Words:
These are our top predictions for shark tank India judges. These are among the top influential investors from the startup world. What you think of the same? Comment your suggestions below.